Our promise to you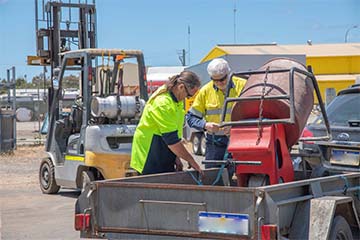 Reliable service
Our experienced team is always on hand via phone or at the yard to help you find, operate and make the most of your equipment for hire. Whether you need an excavator, mixer, pressure cleaner or trailer hire, come see our team for expert advice and a great range of hire equipment at competitive rates.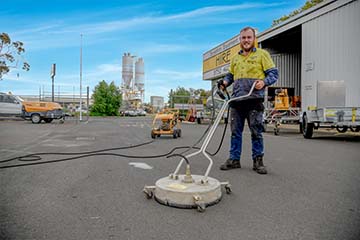 Quality equipment
At Busselton Equipment Hire, we take great pride in providing the highest quality equipment for your DIY or trade needs. All hire equipment, is regularly tested and tagged, and all Worksafe compliance measures are undertaken by our trained staff on-site and on time.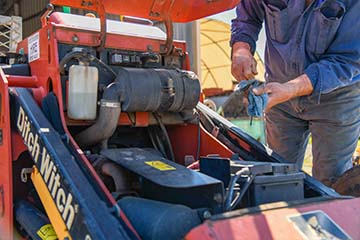 Expert maintenance
Every piece of equipment returned from a hire is put through a thorough maintenance check before being cleaned, safety assessed and tested. If any repairs are required, our experienced mechanic or boilermaker are onto the job. When you hire our equipment, rest assured it will be in perfect working order!
Testimonials
These guys have helped repair and modify our trailer and are really friendly and helpful. They go out of their way to help. Great service and price. Would highly recommend.
Lee S
great service everytime, great gear at great prices and helpful staff 10/10 
Andy
Top service, honest appraisal and quality work!
We had a caravan peel the suspension arm from the chassis rail. Adrian, Dylan and team were absolutely fantastic! They explained the process, ensuring I understood what and why the repairs were required. Highly recommend!
Lee
Outstanding service and knowledgeable people. Very happy with the repairs on my trailer and would recommend.
Brad
Hired a trailor to pick up a yacht from Walpole. Great advise given on the technicalities. Good quality trailor, and good value for money.
James
Super friendly local business. Great service, inexpensive and equipment is looked after. Would highly recommend
Vasseil
Great service, cheapest hire in town with all the tools to car hire plus trailer and caravan repairs.
Darell
Friendly and efficient. Thanks for coming to our rescue when our boat trailer wheel broke on our way down south. Our problem was fixed by a friendly young man and within an hour we were on our way again.
Andrew
Book your equipment hire
Call us to enquire
Phone our team on 08 9752 4600 to discuss your equipment hire or trailer hire needs. Alternatively, drop in to our yard on Fairlawn Rd in the Busselton LIA to select your equipment for hire.
Book your job
Once you have chosen your equipment or trailer hire, book it in with our team and we will have it ready to hitch-and-go. Some equipment is available for immediate drop-in hire.
Get your project done!
With the right equipment working for you, your project will be completed quickly and easily. No backbreaking digging, sweeping or lifting! Let our equipment do the hard yards for you.
We hire equipment of all sizes - even small hand tools!
Directions
Work smarter, not harder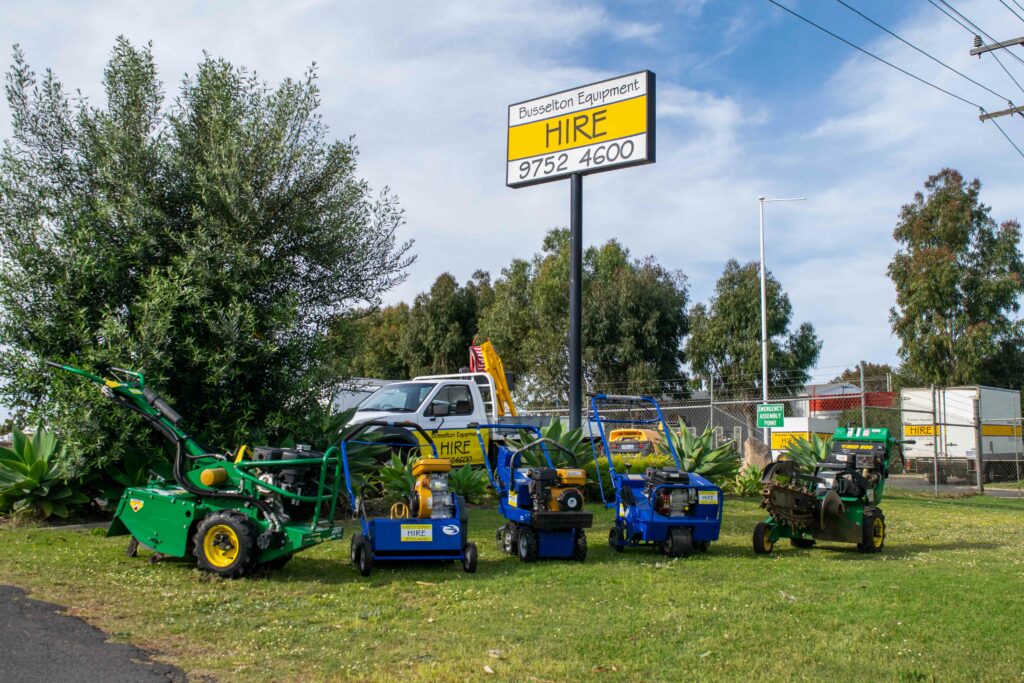 Busselton Equipment Hire is a local family-owned and operated business, conveniently situated in the Busselton LIA. Our friendly, knowledgeable team prides itself on offering expert advice, along with well-maintained, reliable equipment for all of your DIY, trade, gardening, maintenance or renovation needs. We help you work smarter, not harder, with our broad range of equipment for hire. Whatever your project, our team is here to lighten the load when it comes to getting it done quickly, safely and to a high standard. Whether you need to reach a roof, clean up outdoors, pick up something heavy, dig a hole or build a wall, our equipment is on-hand to help. Most equipment is trailerable, meaning you can simply sign, pick up and go! With a mechanic on site as well as an experienced trailer repair and maintenance specialist, we are well-equipped to ensure all of our hires are looked after - and so are you! Our range of equipment is ready to go at competitive rates, so there is no need for you to purchase and maintain your own gear. Hiring saves you loads of time, frustration and space - plus with Busselton Equipment Hire on your team, you have access to helpful machines, tools and devices you never even knew you needed! We also stock a range of trailers for hire, including secure box trailers, cage trailers, a flatbed car trailer and covered trailers. We even have trollies to make the job easier, so whatever you need to move, we have the right tools for the job. Phone our team to enquire about trailer hire today. Busselton Equipment Hire is open business hours Monday to Friday, and Saturday until midday. We are also open for two hours on Sunday for equipment pick up and drop off. Find us at 9 Fairlawn Rd in the Busselton LIA.